---
Some advertisements may include limited time offers or special financing terms. Please read each ad for details.
CLICK ON THE IMAGES BELOW TO ENLARGE them -
FOR A MORE ENLARGED DETAIL IMAGE you can move the "magnifying cursor" over the area of the offer you would like to enlarge more, and then click a second time.
Holiday Mattress Sale Dec. 10 - 31
Holiday Sale Dec 1 - 2
Shop Local Specials Dec 1 - Dec -2
Holiday Sale Nov 20 - 30
Lazyboy Recliners Specials Nov 1-31
Custom Order Sofa - Sectionals
Holliday Dining Sale Nov. 1 - 30
Sleep better with a Comfort Base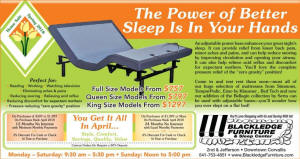 Sleep Better - Feel Better