Home Furnishings Forum
Our Design Forum is here to give you ideas and answer questions you may have about home furnishings selection or design issues for your home. Send us an email, including photos if possible, to Forum@BlackledgeFurniture.com with any questions you have, or interior design and furnishings ideas you would like to share with others in the community. Unless you request otherwise, we will add your questions, comments, or photos to the Forum along with answers and ideas from our staff and others. We will identify you only by a first name or user name, and will not publish your email address.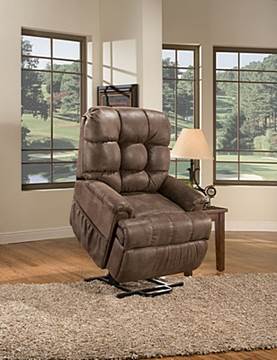 Lift Chairs

Lift chairs can be a wonderful way to give freedom to someone with an injury or limited strength and mobility. Even if they just need a little help every now and then, it can add comfort and safety to those who use the chair as well as for those who care for them.

If at all possible when looking for a lift chair, bring the person who will be using the chair to try it out. This can ensure that the chair will be comfortable for them, If that person is unable to come in, take the measurements of a chair that they sit in and fits them to help guide selection.

An important thing to think about is how the chair fits the person from the back of their hips to just under the knee, also known as seat depth. If a chair is too shallow or too deep it can make the person sitting in it feel as if they are slouching or like they will fall out. A proper fitting chair will allow the back and legs to be supported.

Another aspect to consider is length of the footrest. If it is too short it can put pressure on the legs and interfere with circulation. If it is to long and the persons heel is on the footrest it can put pressure on the back of the knee and cause discomfort and strain on that joint. You want the footrest to fit so that the person's heel is hanging off the end. This allows the legs to be supported by the padding without strain.

The next thing to look at is the head rest and back padding. Many recliners have lots of padding to add to comfort and support the back. If the padding does not fit the person it can cause back pain or neck pain. You want to make sure that the headrest does not push the head forward when sitting in the chair. This can cause strain to the muscles of the neck which when sitting for even a short period of time. A head rest that fits well can support the neck and head relieving the muscles of the pressure that can cause neck strain.

The last thing to remember is that every chair takes a little "breaking in" and not every chair can fit everyone perfectly. Sometimes the best solution is to add a little extra adjustable padding, such as a small pillow behind your back, to add comfort.
Shop Local Oregon Manufacturers

Oregon, as we know, is a bountiful state in manufacturing with a wealth of offerings from; agriculture, timber, apparel, wines and furniture. Supporting local business is understandably in favor of the local economy, environmental sustainability and maintains the local character and diversity of our community. Here at Blackledge Furniture, we are proud to carry local furniture manufacturers and bring you a rich selection of home goods.

You might run into Brian at the grocery store, because Oak Craft Manufacturing has been serving Corvallis since the early 90's. He only works with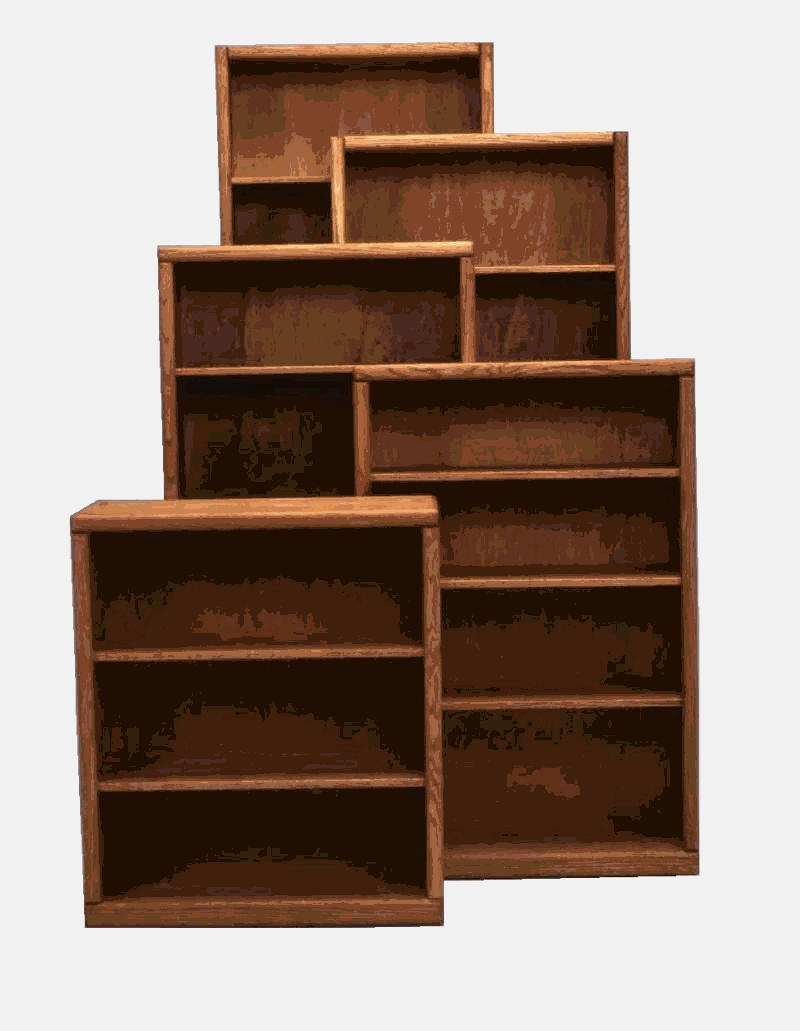 solid oak or oak plywood- never particle board, so quality and durability are assured. In Mission and Contemporary styles, you can outfit your entire home with their wide selection of bedroom furniture, office suites, and entertainment centers. Don't see the size you need? They can customize pieces and offer multiple stain options.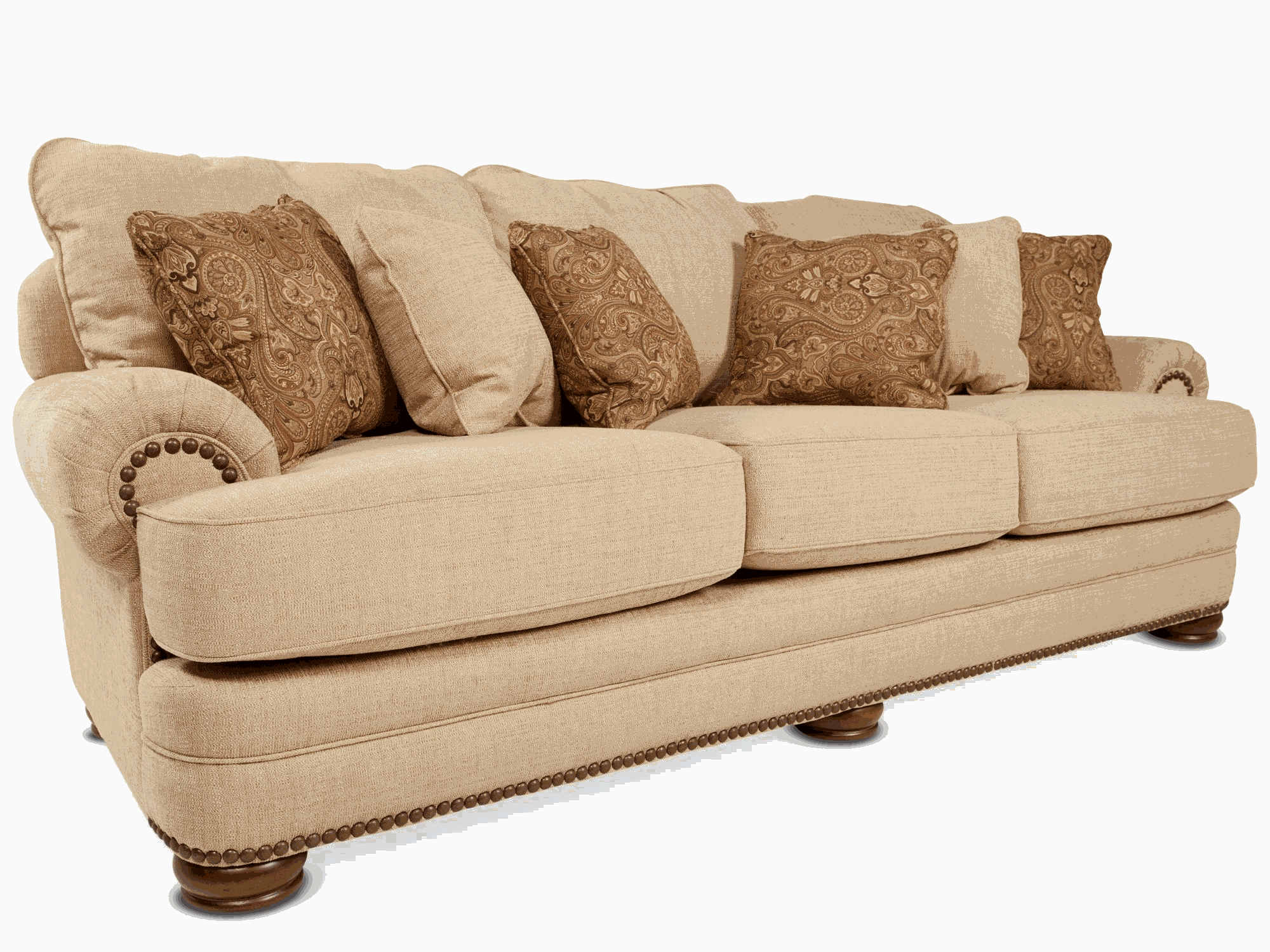 Just up Interstate 5 , in Tualatin, Sunset Home Upholstery has been in business for over 50 years making superior quality upholstered items like sofas, sleeper sofas, sectionals, chairs and ottomans. They offer an impressive lifetime warranty on their frames, cushions and springs! What they don't have are caustic CFC's because the foams are soy based and free of controversial fire retardants. Customize to your heart's desire with styles, fabrics and configurations. At Blackledge Furniture, we have frame styles you won't find anywhere else and you never have to worry about premium fabric prices.

After a busy day furnishing your home, you will want a good night's sleep on an Englander mattress. For value and quality in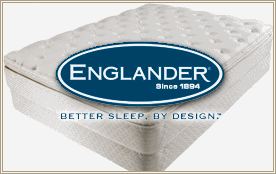 a mattress you need not look any further. Since 1894, Englander has been on the leading edge of design and technology to provide as they say, "Better sleep, by design." Come in today to try their unique support and pressure relief. I recommend trying a new Egel mattress that combines gel and advanced technology memory foam for a cooler, more comfortable sleep.
Displaying Collectables
By Elizabeth at Blackledges

Collecting things can be a great hobby. I love to collect things, and over time the things usually become treasures. But unless you display your treasures in an artful way, they can end up simply looking like clutter.
We have numerous pieces of furniture to help you arrange and display your collections in a manner that will become an artful addition to your home. Of course, how you display your collection will be determined by what it is you are collecting. Life size ceramic turtles will need to be displayed differently than beanie babies.
Books, plates or pottery can be displayed nicely in something like this Hooker Cherry Creek glass front bookcase.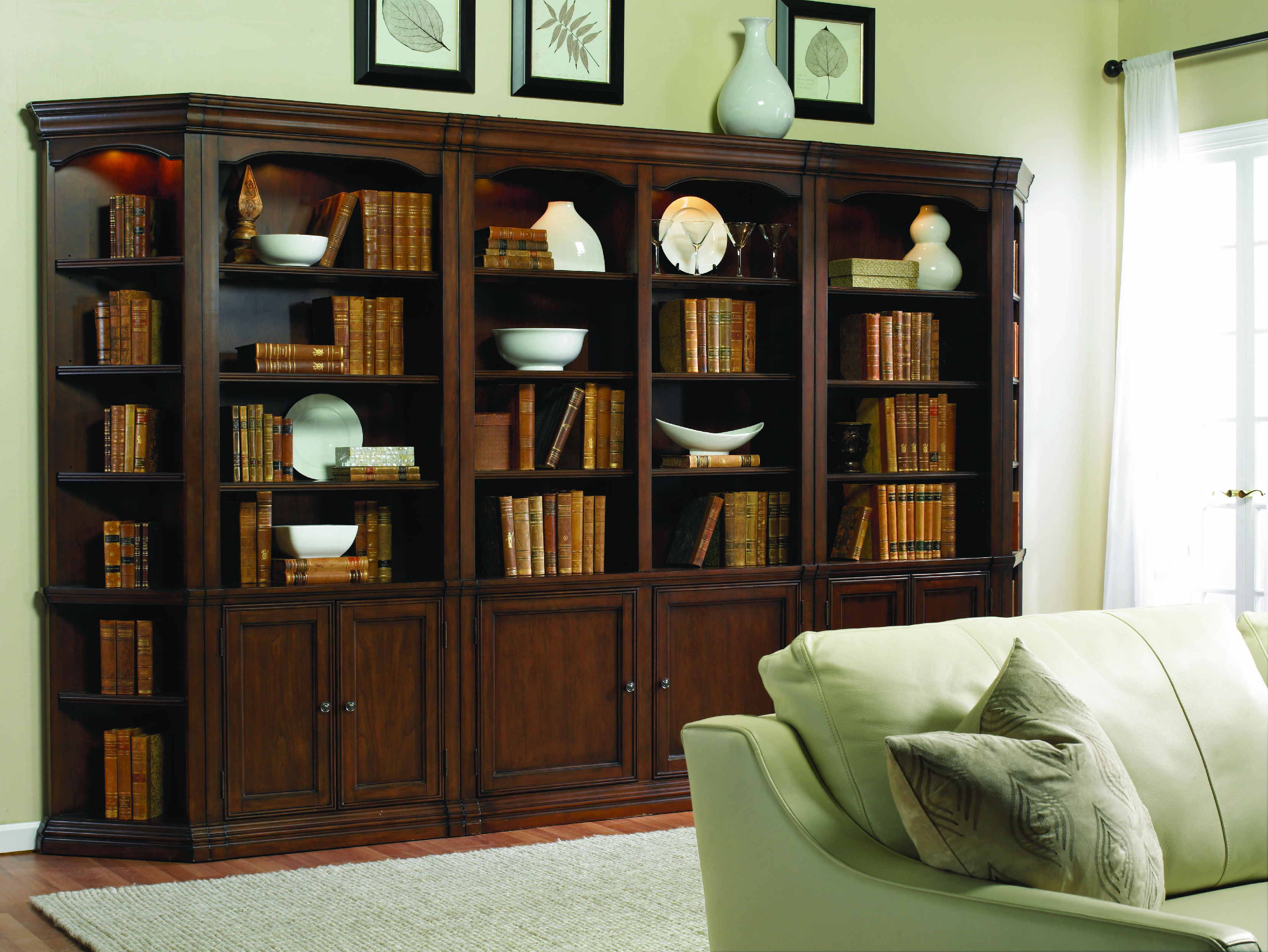 Photos or plates could be artfully displayed on top of this entertainment center.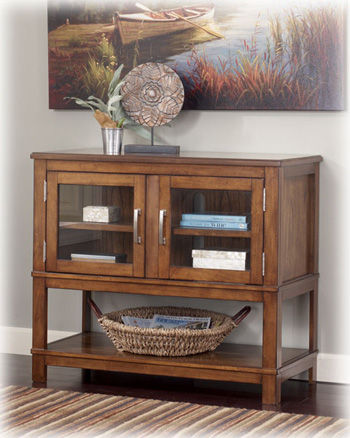 So go ahead, hit the garage sales, flea markets or Craig's list.
Collect away, and display your treasures in style!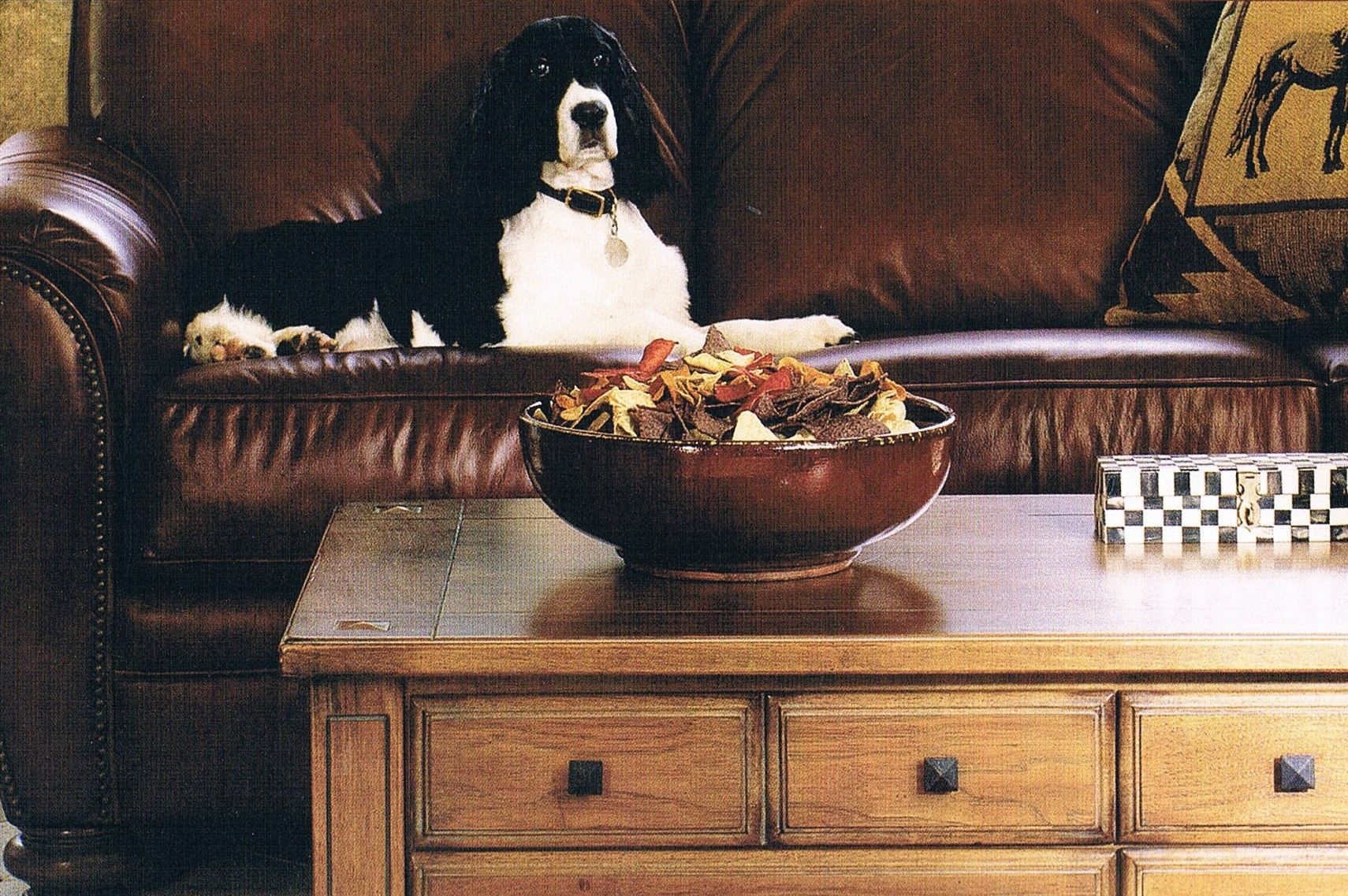 Pets and Upholstery Fabrics
If you are having a hard time finding furniture that is durable to stand up to your pets as well as your family, you are not alone. According the Humane Society of the United States as of 2011-2012, there are 78 million dog owners and 86 million cat owners in the U.S. As the number of household pets increases, so has the desire to create a pet-friendly home.
One of the main concerns facing pet owners when it comes to redecorating is finding upholstered furniture that is beautiful, stylish and able to withstand the abuse that animals such as cats and dogs can inflict on it. Some of the problems a sofa may face in a home with pets include allergens, dirt, pet hair, trapped odors and claw/puncture marks. I'm sure those of you who have pets know that the list doesn't stop here. I myself combat pet hair that all the furniture and dirt marks from a Boston Terrier that likes to bury her bones in the garden (as well as in the sofa cushions).
With all of these factors to consider, it can seem almost impossible to find a solution that will accommodate everyone in your home. Never fear, there is a solution! You do not need to sacrifice a healthy, happy and stylish home when you have pets. There are many fabrics and materials available today that are durable enough to withstand the daily abuse caused by cats and dogs. Many of these fabrics are very affordable and will last years to come thanks to their durable nature.
Lets look at some of these materials starting with microfiber.
Microfibers- Microfibers are tightly woven, suede like, fabrics that are stain and odor resistant. Because the fibers are packed in close together, liquids are not easily absorbed through the surface of the fabric. And because it is a smooth texture, dog and cat claws are less likely to rip or tear the fabric. In general, pet hair is not strongly attracted to micro fiber. Rolling a lint brush over the surface once and a while should help keep your furniture hair free.
Leather- If allergens are your family's main concern, try a finished leather or leather like material. It does not attract pet hair or other allergens and can be easily wiped away to clean and disinfect the piece. A mild detergent is usually all you need to keep leather free of dust and pet hair. Finished leather, like microfiber is also odor resistant because stains and liquids do not easily penetrate the surface where odors typically linger. However, if you are considering leather, be wary if you have a pet that tends to have sharp claws. Leather is forgiving of light scratches but watch out for actual punctures.
Other thoughts to consider when selecting a fabric- If you chose a woven fabric, be sure to pick one that has a tight weave and is not heavily textured. Cats especially like to sink there claws into a nice nubby piece of furniture, leaving unsightly claw marks. Non-woven or tightly woven, flat fabrics are much better at resisting rips and tears. Dark colors and multicolor fabrics will also hide stains and dirt much easier than lighter colors. If you have a pet that sheds unbelievable amounts of hair, sometimes it is also best to pick a fabric that is close to the color of you pet in order to hide hair on the surface.
Multi Function Furniture
As our living spaces become more of a gathering spot for families, entertainment, school work and social media, we are seeking more multi-functional, space saving furniture. The furniture industry has addressed some of these needs with creative pieces from lift-top cocktail tables to charging stations in nightstands. It is a whole new area of furniture design.
Dual nested footstools with a flip-top offer additional seating, storage and table access. They are available in a variety of colors and easy clean fabrics.
Coffee tables have evolved with lift tops for work, crafts, refreshments and playing games. Some offer ottomans nested below for extra seating as well. Sofa tables also have multi-functions with ottomans snuggled below and desk options on top.

Bedroom pieces have special functions also. Nightstands featuring charging stations and nightlights can be found from many collections. TV entertainment chest of drawers offer storage options with space for audio equipment. Some dressers and chests have hidden storage for jewelry or keepsakes. Beds offer extra storage with drawers found either at the foot of the bed or on the side.
Home office furniture has also evolved from the larger computer desks to more compact and functional desk options. You can find expandable desks, desks with attached bookcase, end tables with file cabinets, and smaller desks with a separate rolling file drawer to store under or next to the desk. These work well for the families that use rooms for crafts, school and office work.
As the television profiles changed the entertainment centers of yesterday also evolved into TV stands that house areas for gaming and audio equipment.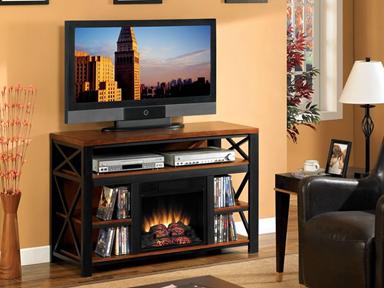 Electric fireplaces have become a unique piece of furniture that can either hang on the wall, hold TV's, or provide a nice ambiance to any room. They are available with heaters that can warm a room and come in a variety of sizes and styles from rustic stone facade to more traditional designs.
Upholstery furniture has seen a few changes as well, with transitional styles that add a chaise piece to a sofa, sectional or sleepers with changeable positioning.
At Blackledge Furniture we can help accommodate your active lives with creative space saving furniture pieces.
Sectionals and Modular Sofas Bring Families Together
What does "family," mean to you? You may be referring to your immediate family members, or your entire extended family. Add in a sprinkle of close friends and your house is practically overflowing during special occasions and impromptu gatherings.
With busy schedules family mealtimes may be less frequent, leaving the sectional to replace the kitchen in many homes as a place to relax and connect through conversation, games or entertainment.
In fact, sectional and modular seating may be replacing the kitchen table as the preferred gathering place for family and friends.
So what is the difference between a sectional and a modular sofa? Sectionals are pieces that are configured in specific way, whereas modular units offer more flexibility to arrange the individual pieces based upon your changing space needs. Sectionals and modular sofas are excellent choice since our lifestyles have evolved with more emphasis on social seating, lounging, relaxing and electronics.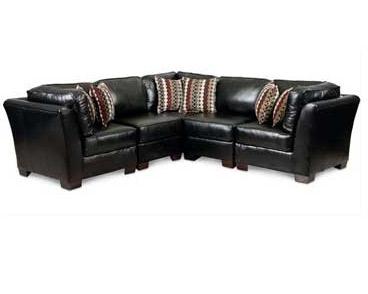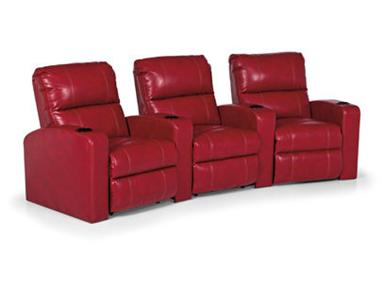 The combination of comfort, quality and versatility in sectional and modular units vary greatly. Add a chaise, additional armless pieces, a corner wedges or a sleeper for thousands of configuration possibilities. Add your own personal style to your groupings. You can include details such as contrasting welt, nail-head trim, all-leather (in hundreds of color choices) or in leather and fabric combinations.
Se

lect an adjustable mattress base for greater sleeping comfort
Many people go mattress shopping and make the mistake of focusing only on the top 4-6 inches of the mattress. They don't realize how an adjustable base can significantly increase their comfort while reading, working, watching TV, and sleeping.
Let's face it -- people do a lot more than sleep in their beds these days. Technology has made it easy to browse the internet or watch TV from the comfort of your bed. With an increase in people working from home, even work is brought into the bedroom. An adjustable base turns your bed into a home office or theater at the touch of a button. Massage features allow you to work the tension away before turning out the lights. Placing your body in a reclined, supported position instead of propped up on pillows means fewer aches and pains when you wake up in the morning.
Adjustable bases offer significant health benefits as well. They allow you to place your body in a zero gravity position (so that your knees are level with your heart), which increases circulation. Inclining your torso while you sleep elongates your airways, making it easier to breath for those with sleep apnea or snoring problems. Since sleeping this way relieves pressure on your throat muscles and tongue, your breathing is unobstructed so you can sleep more soundly through the night. The same raised position cuts back on acid reflux. This position relieves tension on the discs and ligaments in your lower back, easing pain throughout the night.
What to look for when shopping for an adjustable base
Although there are lots of options in the market of adjustable bases, it doesn't need to be as complicated as car shopping. Massage features, sleep timers, and easy-access electrical plug options make it easy to find the perfect base to suit your needs.
If you're a late-night reader, TV watcher, or laptop user, select a base that raises to a high enough position for you and that has convenient electrical plugs built in. However, if you need a slight incline to reduce acid reflux at night, such an incline isn't necessary. If you're prone to losing remotes, chose a base with an attached remote. If you're most comfortable with your legs significantly elevated, look for a base with more flexibility in the leg area.
Gentle wake alarms, snore features, iPhone/iPod controls, quiet motors, wireless backlit remotes, and wall hugger features are all designed to improve your night's sleep, so don't be afraid to ask to see all the options. Some adjustable bases are designed with upholstered fabric siding, so they can stand alone and look great in your bedroom.
The most important advice anyone can give is to spend about 15 minutes on the adjustable base you like the most. Play with all the buttons and get a feel for how it moves. If you plan to sleep in an inclined position, find that perfect position and relax for a while. Once you feel the tension in your spine dissipate and the weight lift off your chest, a flat bed will never feel the same.
Getting to Know Rowe
Rowe is best known for its fashion-forward upholstery and styling options... and I must add their gorgeous fabric selection. I thought to myself, how great it would be to select a sofa, add decorative accents such as nail-head detailing, leg style/wood and select from multiple cushion configurations at no additional charge. Well Rowe came through with flying colors! Its called Rowe Extra Options Program, or for fun lets call it RXO.
It all starts with your frame selection (see examples below), then add personality with flair and confidence. Each piece is constructed using Hardwood plywood frames secured by double-dowel joints and corner blocks. They are guaranteed to be free from manufacturer defects for their lifetime.
Equally committed to sustainability, Rowe is also a Founding Member of the Sustainable Furnishings Council. They select moisture-free kiln dried woods from replenished, domestic forests. Their natural renewable fibers are dyed at GOTS certified facilities and they offer the choice of two eco-friendly seat cushion cores.
Too good to be true? It keeps getting better because not only can you browse through hundreds of fabrics choices right here at Blackledge Furniture, you can have a knowledgeable furniture consultant to help you every step of the way. You, Rowe and Blackledge Furniture, the perfect design team.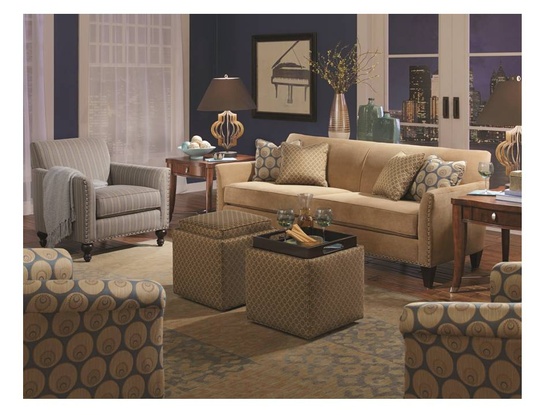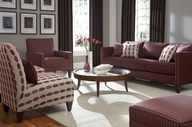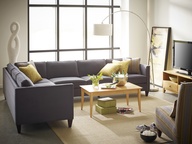 Varick Sofa Mitchell Sofa Mitchell Sectional
Decorating smaller spaces
In a town full of retirement condos, college apartments and small historical homes, it is a good idea to consider how to make those small spaces seem bigger. Whether you are downsizing or just enjoy living in a modest sized home, nobody wants to feel cramped in their living space. Here are some small changes you can make to make your room feel bigger than it is.
- Choose light, soft colors for your upholstery, floor covering and walls. By using heavy dark pieces, you will only create a more enclosed feel. Using light elements will leave the room feeling open and ai<![if !vml]>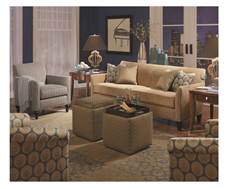 <![endif]><![if !vml]>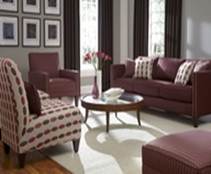 <![endif]>ry.

- Use a monochromatic color scheme. Try keeping all of your upholstery in the same color family and use texture to create visual interest instead of color. Also keep your walls and upholstery similar colors so that your furniture blends in with the walls and creates a more cohesive look.

- Eliminating clutter is key. Use a few large pieces of furniture and accessories rather than many small pieces. Having lots of open space between the pieces in the room will create a more airy feeling as well. Hopefully with these tips you can create a feeling of openness and make your home more enjoyable.

USE COLORS TO EVOKE A MOOD
By Elizabeth at Blackledge's
When designing a room, it is important to determine what kind of mood or feeling you want the room to evoke. Do you want the room to be nostalgic, to bring back memories of sitting in front of the fire with your Grandparents on a snowy winter night? Then you might want rich, warm dark browns and dark reds paired with more neutral tans and beiges. If you want a room to remind you of a relaxing time at the ocean, you might try a palette of toned down subtle blues, yellows and greens reminiscent of the mist that forms near the sea shore. Unless you intentionally want the room to have a "wow" factor, use colors of a similar intensity, so that no color is so strong that it singularly stands out or is jarring to your senses.
Now go ahead, dream of what you want your room to look like, and then use colors to evoke that mood.
Make your furniture shopping more productive
By Stephanie
When starting a project for your home, there are a few things you can do before coming to the store to help make your furniture shopping time efficient and enjoyable.
Bring your room measurements. If you have unique room shapes or angles in a specific space, please bring a picture as well as the measurements. This allows us to help you visualize a piece in that space. It also allows us the opportunity to discuss options for alternate furniture arrangement. If you are looking for a specific space like a couch under a window or on a wall, make sure you know how long the area is as well as the desired height. By knowing the size we can suggest the perfect solutions and compare your sofa selection to the measurements of your home.
Flooring and Wall. Bring samples of flooring, wall coloring, and other furniture present in the room. When you are selecting a fabric, or trying to match a wood or style in your home having those samples present allows us to better understand and meet your needs. When buying carpet or wood floors ask if you can have a sample and then store them in a folder. You can also do this with fabric, leather, and paint chips. That folder will become your home design kit.
Accessories. A fun task is finding pictures of rooms or items you like, in magazines or books. Make copies and bring them in. If we can see what your looking for we can better serve you in finding it. It also allows us to see what appeals to you and the styles and colors you are trying to maintain or achieve. This can prevent selecting items that may not suit your end desires.